Who Invented the Chicken Nugget

An article by
Peter Pierce

Comments Off
A chicken nugget is a moulded product of chicken, which is battered or breaded and fried or baked. Generally nuggets will undergo a typical deep fry in a little vegetable oil.
Chicken nuggets were invented by Robert C. Baker in the year 1950. He was a food science professor at Cornell University. Apart from inventing chicken nuggets, he made other poultry oriented inventions too. And due to his major contributions to the poultry science, he soon became the member of American Poultry Hall of Fame. Nuggets invented by him made it possible to create chicken nuggets in any desired shape. It was one of the most successful products in many of the fast food restaurants across the globe. Mc Donald's recipe of Chicken nuggets was created based on the earlier invention.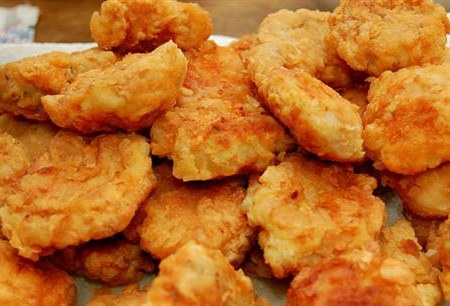 After the great success of chicken nuggets, some of the fast food centres introduced vegetarian nuggets as an alternate dish for chicken nuggets. Garden nuggets were introduced by McDonald's, which were made with beans instead of chicken. But in a shorter period, the dish was completely replaced by burger made of beans. Apart from McDonald's nuggets, an Irish food chain supplier made an alternate nugget meal made of beans and cabbage and served with honey and mustard dipping sauce.